I'm a big fan of TED Talks, and while many have stuck with me over the years, there was one statement from one individual – the owner of a local bbq joint – that has truly stuck with me as I transition from the big marketing agency to my small business clients:
Your brand is your competitive advantage.
This rings so true for so many companies, from our new Top Golf here in Gilbert, to Starbucks and, of course, Disney. The customer experience – the personal reality every individual has with your brand – is your greatest asset. If you can create an atmosphere, online and in-store, that facilitates an agreeable and memorable experience for your guests and customers, you will succeed in growing overall numbers.
The Customer Experience
"According to a 2014 survey by Harvard Business Review, a growing majority of executives believe that providing a better customer experience should result in a competitive advantage for their companies. Yet, while nearly half said focusing on customer experience must be a strategic priority, the vast majority struggle to tie customer experience investments to business outcomes." -DisneyInstitute.com
Disney goes on to say that a key to building long-term, deep attachment with your customers is to be deliberate and consistent about the tangible and intangible benefits you deliver over time. For example, the tangible benefits could include products, quality of those products and price. Intangible benefits could include the experience, the friendly employees, even the social media presence.
According to research featured in the Social Consumer Study, "quality and price (75% vs. 72%) rate as two important factors when customers choose to buy from a company." But, when it comes to determining true customer loyalty (long-term behavior), the research highlighted that a "positive customer experience is the single most important factor that impacts behavior."
Using Social Media
Some of the greatest brands on social media do not run contests to inflate their Fan numbers, nor do they run free giveaways with irrelevant prizes to increase engagement. A brand with integrity that is looking to increase brand loyalty will run contests rewarding current Fans with relevant prizes. These brands will team up with related, local companies or non-profits to achieve their brand promise. They will provide relevant, pertinent, educational information and useful insights directly related to their brand.
The greatest brands on Facebook, local, national and global, focus on their target audience, their core demographic, their most loyal advocates. These brands are creative, innovative, genuine and transparent.
Hubspot pulled together some of the most sensational and effective Facebook pages in existence currently, and I definitely think it's worth taking a look at. How can your Gilbert, or Phoenix, business replicate some of these pages? How can you develop a deeper connection with your Fans?
See more from this great Hubspot Blog at: http://blog.hubspot.com/blog/tabid/6307/bid/28441/The-15-Best-Facebook-Pages-You-ve-Ever-Seen.aspx
15 Great Facebook Business Page Examples You Have to See
Why It's Awesome: This is an example of a Page that focuses on the customer. Not only do they post updates with cool photos, videos, and tips for outdoor adventurers, but they also include tabs dedicated to their free shipping policy, a "Base Camp" where customers can post photos using specific hashtags, and a "Join the Conversation" tab where you can get on their mailing list or follow their other social media accounts.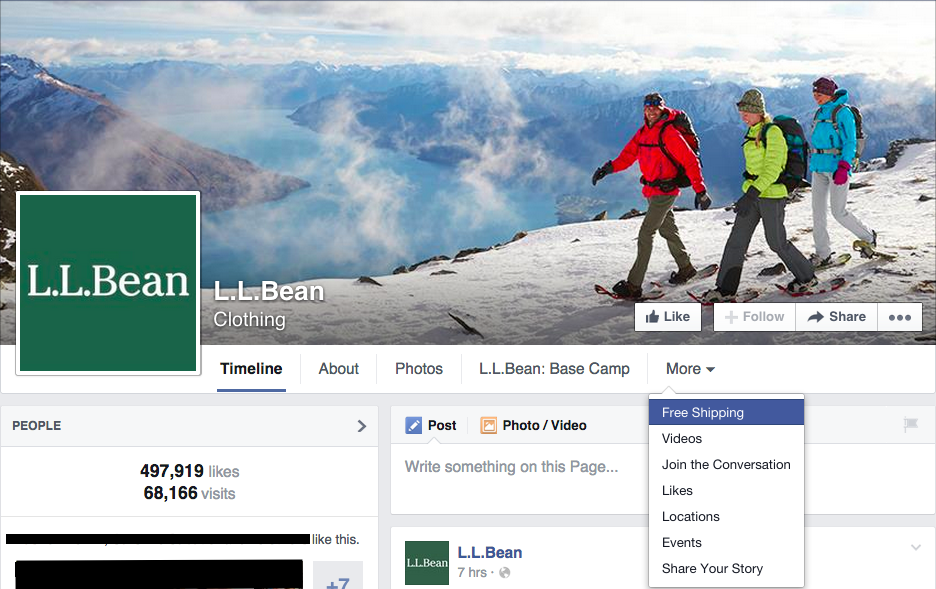 Why It's Awesome: Travel agency Intrepid Travel has put together a great Facebook Page complete with a special tab to meet and connect with other travelers, one that shows trip and tour reviews, and one that lets users search and book trips without having to leave their Facebook Page. Talk about a great user experience.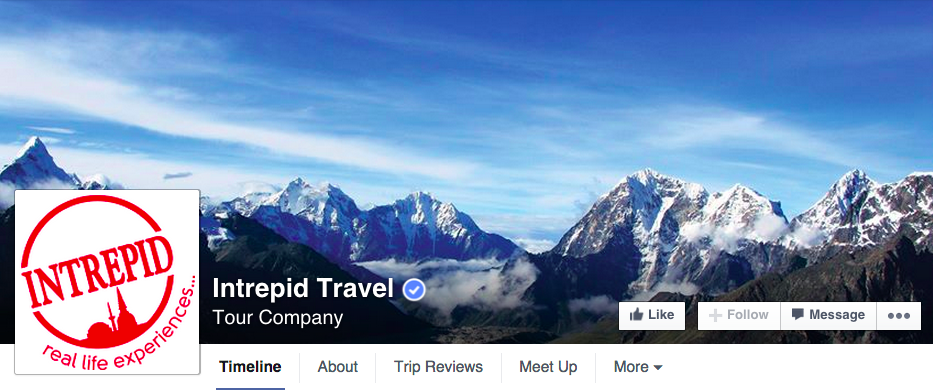 Why It's Awesome: Threadless has tons of great images on their Page — their cover photo features different t-shirt designs and they even have an Instagram app prominently placed at the top of the Page. They also carry over important functionality from their website, allowing users to vote for t-shirt designs and enter design contests. Threadless does a great job of creating a fantastic user experience that doesn't require the user to leave Facebook.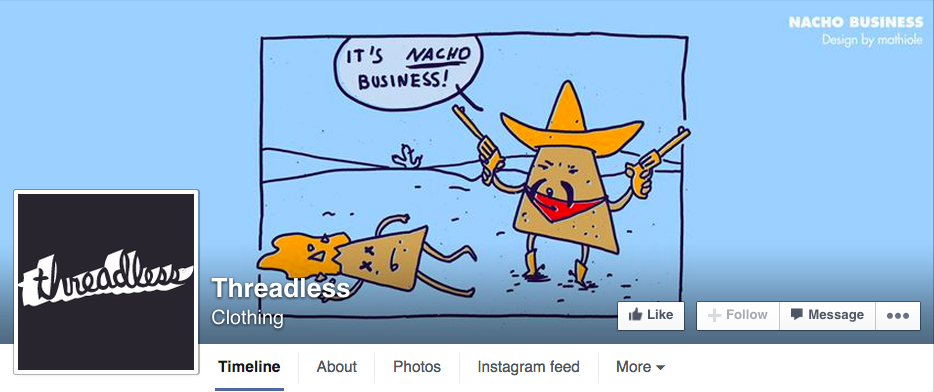 Why It's Awesome: How can one hazelnut spread have such an awesome Facebook Page? A great Facebook page can help bring a product to life. Nutella has a special tab, whimsically titled "Nutiquette," that outlines the rules of the Facebook Page — and thus setting expectations for their fans. The company also shares a ton of great images on their wall that generate a huge amount of engagement.
Why It's Awesome: Zappos is known for great customer service, and they keep that reputation going on their Facebook Page. Zappos has fully taken advantage of Facebook's new call-to-action button feature by placing a "Shop Now" button at the top of their Facebook Page. Users can also learn about their "green team," Zappos L.E.A.F., via an app on their Page.
Why It's Awesome: The NHL rocks Facebook. Their Page prioritizes the things they know users care about most when visiting their Facebook Page: photos and videos, Live Stream, and contests that give them the chance to win tickets. Not only that, they're constantly putting out relevant news stories and compelling visual content that get high levels of engagement from their fans.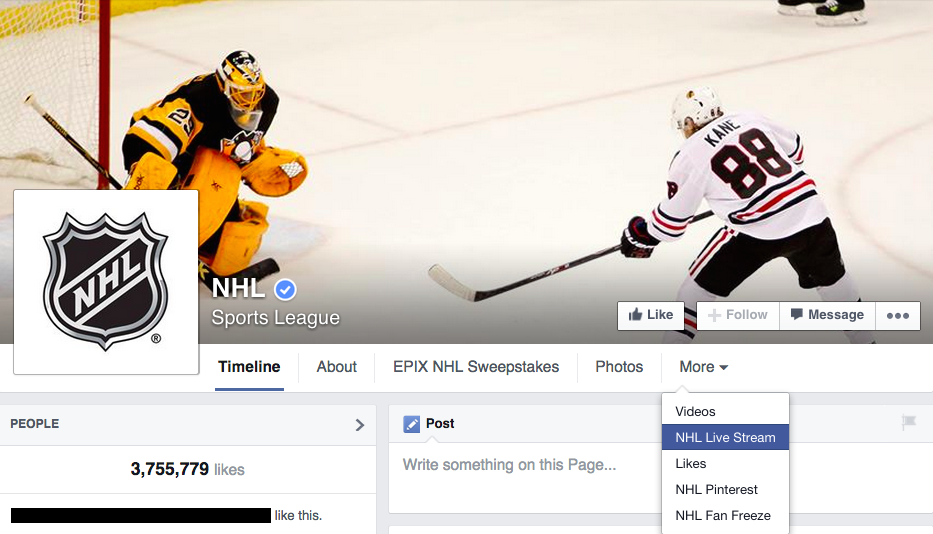 Why It's Awesome: Tough Mudder, an organization that runs weekly obstacle course events all over the U.S. and donates the profits to the Wounded Warrior Project, leans on social media sites like Facebook to help recruit and pump up participants. They do a great job of keeping their Facebook content fresh and up-to-date, which is especially important for an events company. Each event they run has its own Facebook Event, which shows up in an "Upcoming Events" feed on their Page. And, of course, they're always posting crazy pictures and videos to their Page to keep people hyped up.
Why It's Awesome: St. Jude's is a volunteer- and donation-driven organization, and they do a fantastic job engaging their volunteer and donor bases on Facebook. Their posts and photos are highly engaging, often featuring the personal stories of patients who were helped thanks to the generosity of people like their Facebook Fans. Their Page also offers apps that allow you to donate, browse careers, make holiday gifts, and more — right from the Facebook Page.
Why It's Awesome: Starbucks was an early social media adopter, and it comes through in the polish and features of their Facebook Page. The featured tab leads you to their local Facebook Pages, so non-English-speaking fans can easily navigate to their country's Starbucks Page. Beyond the international app, Starbucks uses its Page to showcase their rich visual content, run contests for seasonal products, and highlight job openings. They also offer a slick store locator application.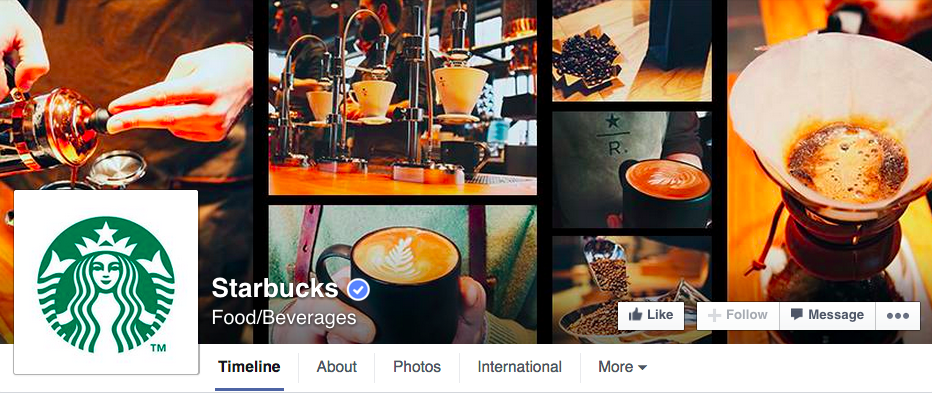 Why It's Awesome:  Facebook commerce is a huge opportunity for many businesses. Livescribe does a great job of integrating the product shopping experience into their Facebook page … and then make it social! This is a great example of a robust page that, in many ways, functions like a business website. I especially love that they've built a Customer Support app right into the Page so you don't have to leave Facebook to ask a question, share an idea, report a problem, or give praise.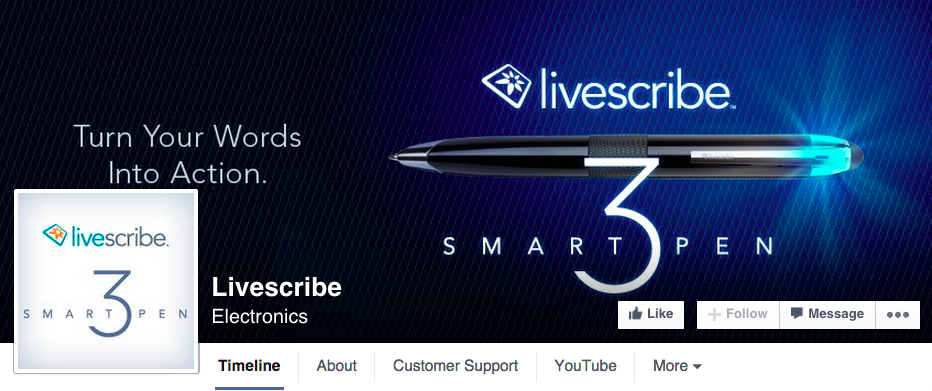 Why It's Awesome: Your customers can be your best sources for market research. The Burt's Bees Facebook Page uses a poll tab to ask questions about flavor preferences, product names, and so on. Customers have the option to vote, see results, and/or share their opinion on their own Facebook Pages. They also have a coupon tab that gives customers opportunities to save money.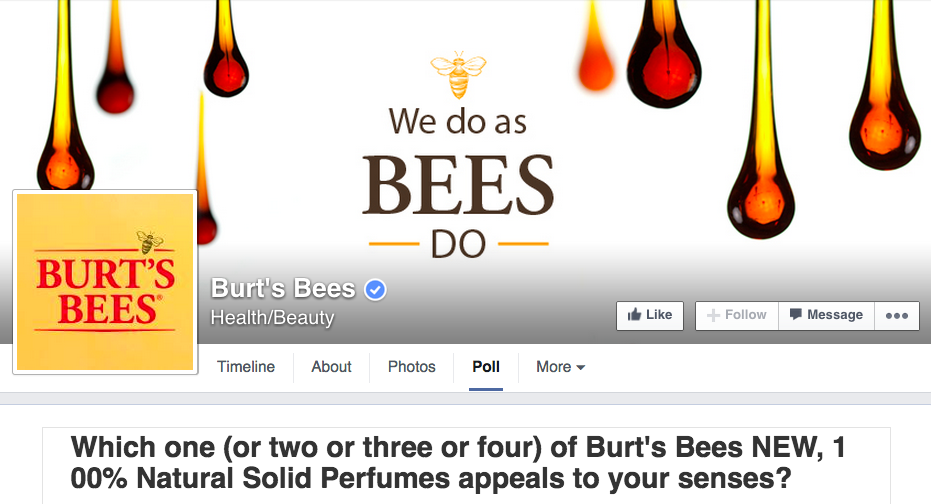 Why It's Awesome: With all that space in the cover photo, why not pair colorful visuals with a strong value statement? That's exactly what Easy Lunch Boxes does: put it all out there as soon as a user lands on their Facebook Page. In addition to posting fun pictures, videos, and tips like "lunch box hacks," the Page also includes apps that let users ask questions, sign up for their newsletter, follow their blog, and even get recipe and meal ideas. Overall, the Page is on-brand and clearly displays the utility of the product.
Why It's Awesome: For a company that's been around for over 50 years, Gold's Gym has shown they can keep up with the times on their Facebook Page. Their "Gold's Gym Challenge" is a front-and-center application on their Page, which lets users join the group, see other members, and join the discussion without leaving Facebook. They also have a handy gym locator app so prospective members can easily see whether there's a location nearby. Finally, Gold's Gym keeps engagement high by posting lots of content, much of which features members' inspirational fitness journeys.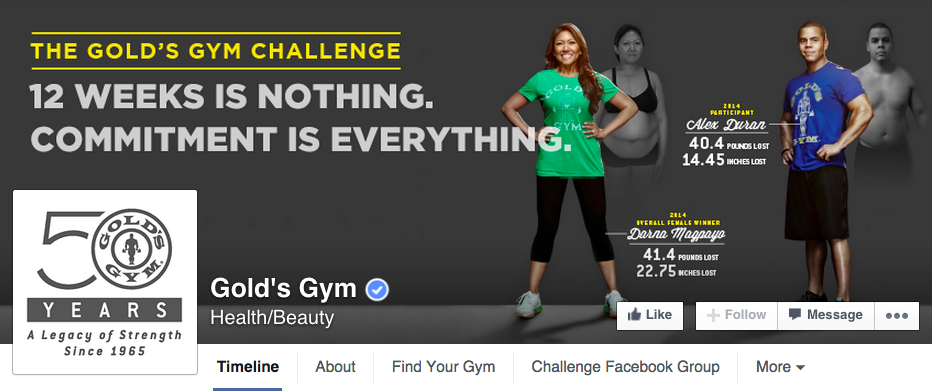 Why It's Awesome: As a company based on creating flexible entrepreneurial opportunities for women, Stella & Dot relies on platforms like Facebook to help grow their business via word-of-mouth marketing. They are a great example of an organization that's successfully built a community on Facebook. They use it to share styling tips with their social community, show how their pieces are designed and made, and post videos on how to wear their jewelry. All of their visual content is vibrantly colored and beautifully shot.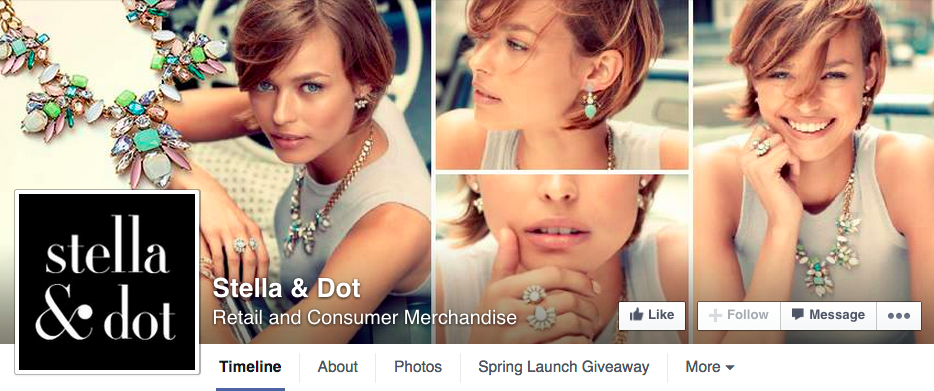 Why It's Awesome: Mabel's Labels is a great example of going beyond simply asking users to buy from them. Their Facebook Page is chock full of opportunities to engage with the company long-term. For example, one of their apps shows users how to join them in fundraising for a shared cause. And, like Zappos, they've also taken advantage of Facebook's new call-to-action button feature by with their "Sign Up" CTA, linking to their newsletter subscription landing page.