I'm a small town girl. I was raised here in Gilbert, Arizona, graduated from Gilbert High School back when there were only two high schools in Gilbert and we rumbled like crazy, and got my BA from Arizona State University where I spent most of my time doing anything but school work until my very last semester. I love this place, and that's why I love being able to help out the small businesses here make it through these rough economic times.
Every time I drive down Warner, past Recker on the way to my lil sis' house, I remember the small town that Gilbert used to be. I remember learning how to drive a stick-shift out by William's Air Force Base, and racing down the back-roads with a car full of basketball players. This is my small-town-USA, and I wouldn't change a single thing about it. I left a few times, once after high school graduation and again a few months ago, but I've always come back realizing that there really is no place like home.
Web design for Gilbert, Mesa, Chandler, Queen Creek and Apache Junction offers the opportunity for small businesses to add an extra layer of advertising to their marketing scheme. A small businesses web page has the potential to bring in not only local Arizona traffic, but national traffic as well. There are hundreds of ways to target your audience, whether you are looking only to bring in residents from your small-town-Arizona, or whether you want to play with the big boys and take on the national crowd. It's all possible.
Breaking it down to its simplest form, this is what you can expect from Linwright Design. Below is an example of a search for flowers in Gilbert, Arizona. (flowers Gilbert Arizona). As you can see, Google provides a map of the area within the SERP (search engine results page), and there are 150,000 results. This means that if you want to rank without paying for it, you have to compete with 150,000 other websites for this search. The mapped area would be how you would target the local crowd, and the easiest way to do that is to simply register your website with Google local. See the diagram below for an overview of the SERP.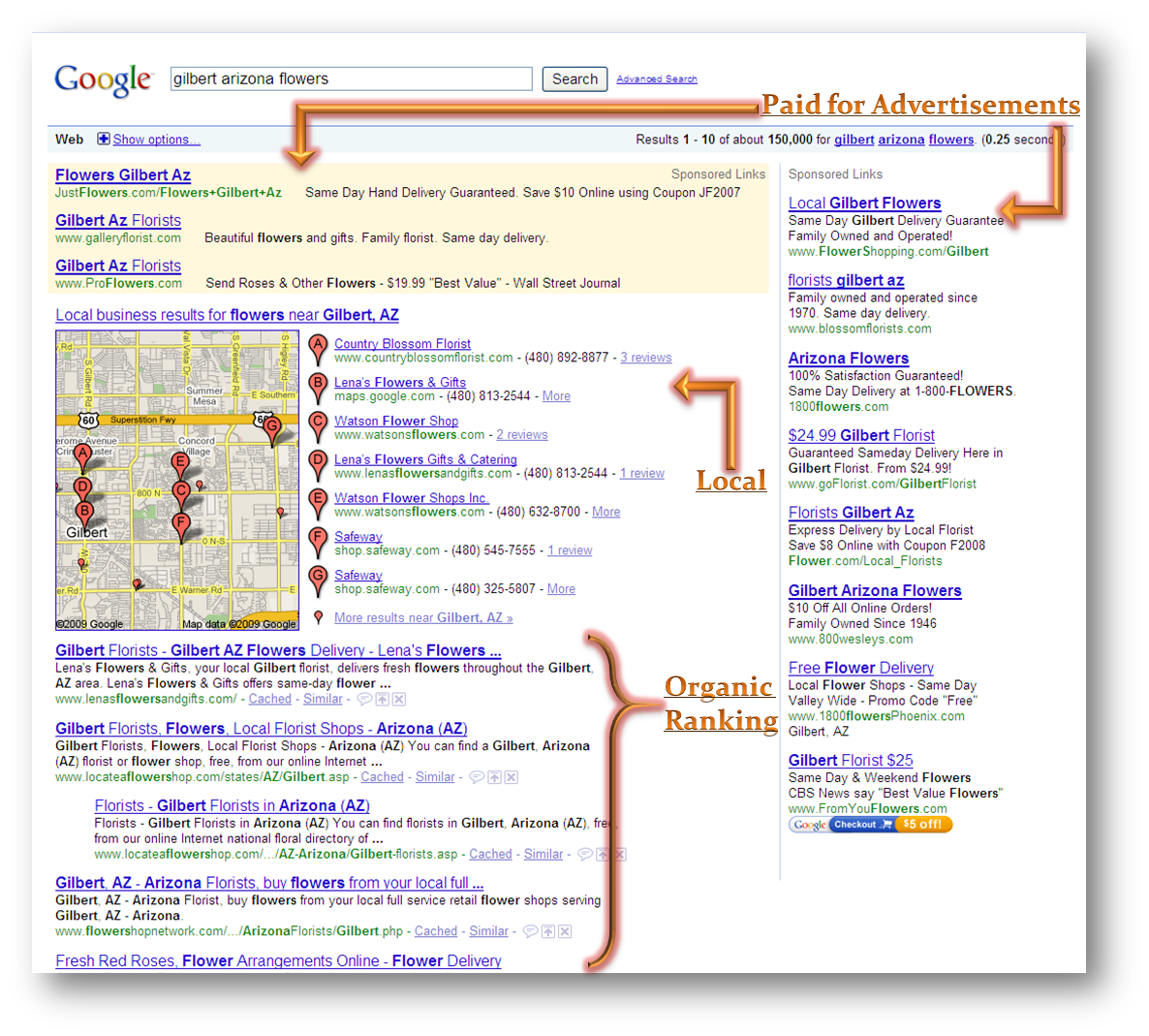 What I would suggest doing to target the local Gilbert, Chandler, Mesa, Queen Creek or Apache Junction area is to register with the local advertising sites. With Google it's free to register your site. They will give you a call to verify your address and your business, and the rest is up to you. In order to rank well for Google local, it's all about organic SEO (which basically means anything and everything that you do to get to the top without paying for it. AKA; link building campaign, content, blogging, social marketing).
If you have ever searched for batting cages in Gilbert, Arizona, you probably have come across Rip City Batting Cages, which is located at Freestone park. If you are considering doing a local marketing campaign for your small-town-Arizona area, take a look at these batting cages. They have completely saturated the SERPS. They almost have the entire first page of Google for this search term! Granted, there are only 43,000 competitors for batting cages in Gilbert, Arizona, which is a small number, but they have registered their site with every possible local firm.
It's as simple as registering with City Search, User Instinct, Yelp, Yellowbot, Merchant Circle, Local Yahoo, Local Google, Insider Pages, and Yellow USA, among many other local platforms. Some of them are paid-per-advertising, some of them are completely free. But if you are considering building a website and marketing it towards local traffic, this would be the route to go.
On top of local SEO, Linwright Design would also integrate Facebook and Twitter into your website. In my personal opinion, it is almost pointless these days to build a website and not integrate social media into the mix somehow. Twitter and Facebook also allows you to engage your customers at a local level as well.
By using Twitter and Facebook you can target users who are from your local area. In every case, a person building a profile on these social networks will have to enter their home-town. If their hometown happens to be Gilbert, Chandler, Mesa, Queen Creek, or Apache Junction, then you add them to your list of followers and friends. It's that simple, and that easy to let them know about upcoming promotions, specials, and local appreciation days.
Now, the actual web design is the best part. Designing a website for a small business involves taking inspiration from the business itself, the customers' needs, and, of course, the area. In my opinion, how can you build a website about small-town-Arizona if you haven't lived there for all of your life?
I won't lie, I had to build a corporate website recently targeted to residents of Indiana. Now, I've never been to Indiana. I'm sure they're proud of their Colts, but what else are they proud of? What would catch their attention? So, I did some research, found some pictures of Indiana, and tried to make it work. It's difficult when you have to make a local website about a place that you've never been, but, of course, I made it work.
Building a website for a small business that targets the local traffic is one of my favorite things to do, especially for small-town-Arizona. Nearly everything about this state is beautiful, and I thoroughly enjoy creating a website to promote that as well as the small businesses and business-people behind the scenes.
Don't forget to contact me for a free custom quote!