Tracking your social statistics is definitely not the easiest thing in the world. It's tough to prove to a potential client that social media should always be a part of the package, and building a website without integrating any kind of social aspects is almost worthless. Well, ok, maybe not worthless, but an effective small business owner will more than likely see the potential in integrating some sort of social options to their websites.
Getting accurate and conclusive statistics regarding Facebook pageviews, Twitter clickthroughs, or simple blog visits is tougher than you might think. Sure, you can enlist Google Analytics, try bit.ly or su.pr, attempt PostRank, or jump on TweetStats, but if you were to compare all of those numbers to each other, they will never add up.
If your Twitter shortener (the platform that you use to shorten your links for Twitter's 140 characters) says that you received 115 clicks from a certain link, your Google Analytics will no-doubt show far less than that for the amount of people that actually viewed the page. Sounds confusing, right? Here's the visual.
See what I mean. I used to use bit.ly for my Twitter shortener, until the numbers really went haywire and didn't match in the slightest to what the other analytics stats were saying. So, I did some research and decided to give su.pr a try. Su.pr is owned and operated by StumbleUpon, which gives your blog post an added boost. When you shorten the link, su.pr will automatically post it to StumbleUpon. I also heard that su.pr is more accurate than bit.ly because it weeds out the bots. But, as you can see from the visual above, it's still hard to tell exactly which numbers are correct.
So, in some more research for accurate social media statistics I heard about PostRank, a brand new analytics program that combines Google Analytics with social tools like Twitter. It takes the numbers from Google Analytics, and from my  understanding, compares those numbers with the amount of interaction that happened on Twitter concurrent to a specific blog post. Than it takes the blog visits, combined with the Twitter conversations, and creates a interaction score.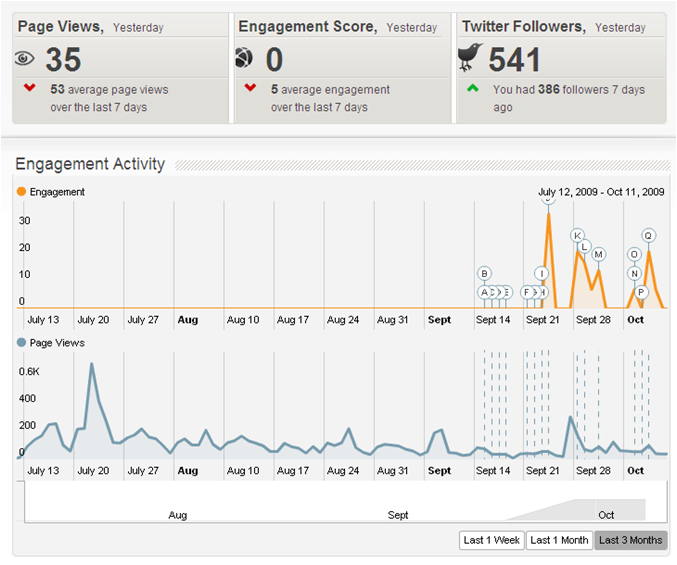 Pretty sweet sounding, right? Well, after getting truly excited about something that might actually be accurate, I decided to give it a few weeks. As you can see below, it's still not entirely accurate. Not only are the followers numbers off, the numbers pulled over from Google Analytics don't always match up, nor does the amount of Twitter conversations or the social bookmarking stats.
I give PostRank a lot of credit, however, for attempting such a feat. Being able to accurately track social media numbers is incredibly crucial in this field, and finding a system that works will probably make millions for the creator. I'm still waiting for that day.
Until then, I simply use a variety of analytics including Google and su.pr. I continue to switch it up every couple of months to try and find the most accurate program, every time wishing that the perfect social analytics tool is out there. If anyone has any suggestions I'd love to hear them!
Update: As I was going through my feeds this morning, I came across an article from Social Media Today regarding this exact subject. This is the section that I found most interesting:
Unlike traditional forms of gathering consumer insight, online tools are often cheaper, based on much larger sample sizes, and are quicker to deliver results.  For the past few years the value of search engine marketing (SEM) are measured largely by ad impressions, page views and click through rates.  However, as internet users are more willing to input additional data online, companies are now looking to measure key metrics of engagement on a person-level.
According to a recent comScore and Starcom USA's study on how U.S. Internet users click on display ads, "Only 8% of internet users now account for 85% of all clicks… The results underscore the notion that, for most display ad campaigns, the click-through is not the most appropriate metric for evaluating campaign performance. Rather, advertisers should consider evaluating campaigns based on their view-through impact."
That's just one of the examples that web analytics can be misleading.  It will continue to be challenging for marketers to abstract reliable data as social media adds another pile of data to the media measurement mix.  The future trend to measure more accurately will be to combine technical web analytics (server logs) with a sampling of user surveys (opt-in by visitors) that visits the site.  Although there will be sampling errors, it certainly beats making assumptions that doesn't reflect real user behaviors.