Try For FREE
Don't miss another opportunity to turn a customer into a Brand Advocate and customer for life! Learn more about our free trials!
Click Here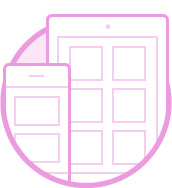 In-Store Social Media Marketing
With a strong in-store brand presence, we can add elements to integrate a social media aspect to streamline the in-store experience with Facebook, Instagram and Pinterest. We can provide everything from print materials, digital photo boards, social clothing tags, customized window stickers, posters, personalized brand hashtags and brand-aligned contests that engage your customers on a higher level.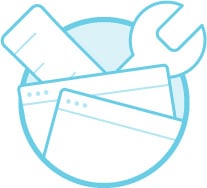 Online Social Media Marketing
Linwright Design uses digital strategies to encourage your customers to engage with your brand online. With a generation of experience in social media marketing, we use content management, website integration, and image marketing to invite your audience to participate with you online. We turn fans into brand advocates, and brand advocates into customers for life!
Facebook, Pinterest, Instagram
These three social networks are the greatest marketing assets you can have at your disposal. They reach millions upon millions of individuals, including those who are most interested in your product or service. Increase brand visibility and credibility!
Blogging
Content development should be an integral piece of every business owner's marketing strategy. Blogging gives not only your readers a reason to revisit your site, it gives Google a reason to crawl your site and Facebook a reason to be interested in your site. The benefits of blogging are truly remarkable, if done correctly.
Audience Insights
A key element in designing your positively engaging marketing strategies is to appreciate your audience. The better you know your audience, the better you can influence their behavior and turn them into brand advocates. We provide you with the in-depth metrics that matter, so you can make marketing decisions that will impact revenue.
Advertising
With Advanced Facebook Advertising, we take every metric obtained from Audience Insights, as well as data gathered from in-store analytics, and design incredibly successful ad campaigns. Linwright Design ad campaigns run well below market averages in terms of Cost Per Click and Click Through Rate.
Linwright Design is proud to present Veterinary Marketing AZ, the only marketing company in Arizona dedicated completely to the veterinary industry!
Click to Learn More
Step 1: Know Your Audience
Step 2: In-Store Branding & Engagement
Step 3: Online Branding & Engagement
Step 4: Create Brand Advocates for Life
At Linwright Design, our mission is to streamline a positive brand experience for your customers from your brick & mortar store to your social media pages. With over a generation in search marketing, brand marketing and social media marketing, we have been behind many of the successes you see here in Gilbert, AZ, from the kitchen remodel company down the road to the plumber who visits your home. With innovative strategies and creative solutions to get your core audience engaged not only with your products, but with your entire brand, we aim to transform each and every customer into lifetime advocates.
I'm a big fan of TED Talks, and while many have stuck with me over the years, there was one statement from one individual – the owner of a local bbq joint – that has truly stuck with me as I transition from the big marketing agency to my small business...
According to a recent report from MarketingCharts.com on the effectiveness of Facebook advertising, the average click through rate in 2014 rose from 0.18% to 0.36% globally. In the U.S., the average click through rate increased from 0.09% to 0.14%. That's just...
Linwright Design is made up of local marketing experts who have at least 3-years of experience in brand marketing and social media marketing. Our CEO, Kandice Linwright, has an extensive resume, including published articles on Social Media Examiner and Social Media Today. A background with Disney, Mass Communications and Journalism, Kandice Linwright has the tools and the team to create success for your business.
Linwright Design uses innovative and advanced brand marketing tactics to deliver quantifiable metrics. We design, implement and manage marketing strategies focused on your brand and your audience, eliminating the confusion and murkiness of a complicated industry. We build marketing plans to increase brand awareness, build brand credibility, and augment your brand's reputation online and in your community. We build brand advocates!
We pride ourselves on no-nonsense business ethics that include hard work, loyalty and dedication. We dig into the attributes and characteristics of your target audience to determine the patterns and metrics that can be used for targeted brand marketing. By understanding your core audience, we design marketing strategies to streamline a positive brand experience from in-store to online.